Calling all mothers, fathers, sisters, brothers, aunties, uncles and friends! Do you want to cook or bake something delicious and healthy for kids and your family.

Hi, I'm Zoe from Bake for Happy Kids. For the past years of my blogging, I have been baking and cooking a lot for my husband and kid and feel like baking a lot too for happy kids. As my baking progresses, I begin to realise that cooking and baking my own food plus getting kids involved in our daily cooking has encouraged both adults and little kids to eat more good and healthy foods.

In December 2012, my friendship with Doreen from my little favourite DIY has prompted us to organise a cooking/baking family-oriented event named "Little Thumbs Up".

This event starts every first Tuesday of the month and end in on the last day of the month. For each month, one rotating hostess of this event will nominate an ingredient (preferably something healthy for your family). Using the ingredient of the month, all participating blog post will cook or bake and link up at the hostess's blog.

Please take note of the Do's of this event:

1) Please join us whenever you can. There is NO members' list and this event is opened for everyone. Please feel free to display "Little Thumbs Up" badge on your blog post if you wish to join.

Here's the HTML codes for the badge: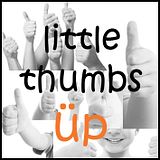 In thumbnail size:
Just copy and paste the above HTML codes into your blog if you wish to display this badge.
2) Please cook or bake as many times as you like as long as the recipes that you published contains the chosen ingredient of the month. This means that multiple submissions of different recipes are allowed.
3) The recipes that you used can be from cookbooks, magazines or websites. Please DO NOT BREACH any copyright rules. In regardless if you use the entire or partial of the recipe, with or without any of your adaptions, please include title of the book, magazine or the link to the original recipe in your blog post.
4) You can even submit your same blog post to any other blog events but you have to make sure that you check the rules of the other events.
5) To be able to link up with us, you must provide a link back to
Bake for Happy Kids
,
my little favourite DIY
and the organising hostess
. Use of this code will not be allowed if links of our blog are not included in your blog post.
6) All submissions to this event must be current posts, published within the month of this event, any older posts will not be not accepted.
7) All the upcoming ingredient theme and hostess for the forthcoming months are listed at "Little Thumbs Up" side bar of my blog.
8) The linky tool for this event will stay open until the end of the month. Please feel free to visit the blogs from the links and leave your comment.
9) MOST IMPORTANTLY, we encourage kids and family participating in eating or cooking in this event but it is totally optional if they don't appear in your blog post.
All we want is a PICTURE of THUMB/s UP (in any form) in your post!
You can choose to use our badge with lots of thumbs-up!
10) We are looking for HOSTESS for this event too! INTERESTED?
Please email us at zoebakeforhappykids[at]gmail[dot]com or Doreen at
muihiong71
[at]

gmail
[dot]

com
if you are interested to host any coming Little Thumb Up events. Please feel free to let us know your chosen ingredient and the month that you would like to host this event and we can discuss further via email.
If you have any other enquiries, please leave a comment in my blog and write to me via zoebakeforhappykids[at]gmail[dot]com or Tweet me @bake4happykids
Please forgive me if I don't promptly answer your email. I'm a working mum and would like to dedicate most of my free time for my family. Besides, writing my blog and blogging can be time-consuming and would like seek your understanding for any late response. Otherwise, please feel free to leave comment on my blog, I am usually quick to respond via blogging.
-----
To increase participation, we like to encourage a general choice of theme if possible but like to avoid too-general themes such as fruits, berries, nuts, dried fruits, beans, vegetables, oil or even water! - LOL! If the theme that you like is a little too specific, you might wish to combine two similar kinds together. For example, green and red beans. Something that we can use to cook savoury and sweets will be good. Preferably too if the chosen ingredient is a healthful one which means no white sugar, lard, copha shortening and ghee, please! Nevertheless, it will be eventually the hostess's choice and decision to choose.
Pear*
Strawberry*
Cranberry*
Blueberry / Raspberry*
Cherry*
Grapes* (including raisin and sultanas)
Peaches and nectarines*
Lime
Onion
Chilli
Rice
Whole grain/wholemeal
Yam
Sweet potatoes
Coffee
Horlicks
Yeast
Cream cheese
Soya sauce
Red and white wine
Canola oil
Vegetable oil
Olive (including olive oil)
Peanut (including peanut butter and peanut oil)
Sesame seeds (including sesame oil)
Walnut
Chestnut
Green/Red beans
Chickpeas
Mung beans
Broad beans
Spinach
Zucchini
Pea
Cucumber
Carrot
Raddish
Chives and Spring onions
Rosemary and thyme
Mint
Salt
Pepper
Soda water
Cornflour
Tapioca
Quinoa
Please note that I try not to choose beef and pork as an option for religious purposes.

*including their dried forms, wine and juice